2010.11.04
First WAGNER rehearsal with Israel Chamber
First rehearsal of Wagner's "Siegfried-Idyll" took place in Stuttgart, Germany
Paternostro and the Israel Chamber Orchestra performed at the Liederhalle Stuttgart by the beginning of November. There the very first rehearsal with Richard Wagner's "Siegfried-Idyll" took place. Rehearsals of the piece that will be performed on July 26, 2011 in Bayreuth - the first time by an israeli orchestra - won't be held in Israel due to respect for Holocaust survivors.
Bayreuth: representative meets Israel Chamber Orchestra
November 4, 2010, Cologne: Nicolaus Richter, representative of the City of Bayreuth, joined the ICO's concert at the Cologne Philharmonic concert hall. The City of Bayreuth is honored that the historic concert will take place in July 2011, he pointed out in a speech towards the orchestra.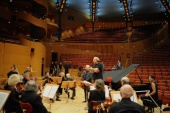 Israel Chamber Orchestra,
Center: Nicolaus Richter, representative city of Bayreuth
Roberto Paternostro
Right: soloist Elena Bashkirova
(c) Marion Koell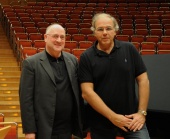 Nicolaus Richter, Roberto Paternostro
(c) Marion Koell